A new item has been added to your Shopping Cart
Continue Shopping
View Shopping Cart
X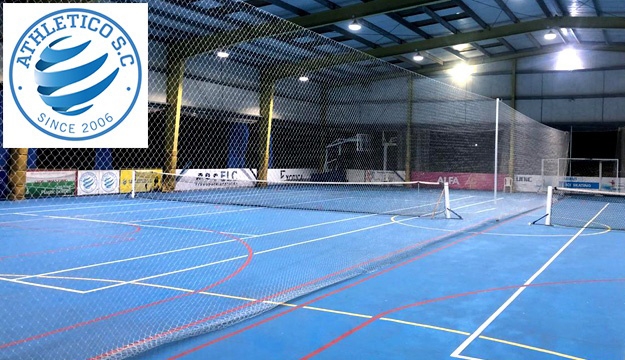 Highlights
Choose Between Four Options:
Option 1: LBP 28,000 for 60 min.Basketball Half Court Rental (LBP 40,000 value)
Option 2: LBP 40,000 for 90 min. Basketball Half Court Rental (LBP 60,000 value)
Option 3: LBP 54,000 for 60 min. Basketball Full Court Rental (LBP 80,000 value)
Option 4: LBP 80,000 for 90 min. Basketball Full Court Rental (LBP 120,000 value)
One free water bottle pack
The club has a partnership with the renowned French Club Olympique Lyonnais allowing them to send players on a semi-annual basis to train with OL Junior U13 and U14 teams in Lyon-France
Showers available
For Bubble Soccer Click here
The Fine Print
Coupon promotional value expires on October 22, 2020
May buy multiple Coupons
Valid on Weekends & Weekdays from 8:00 AM till 12:00 AM
Maximum for up to 10 players
Booking required 1 day in advance, Let them know you're a Makhsoomer
Present your Coupon from Mobile or Printed to redeem
VAT included
Cancellations must be made 8-hours in advance or else coupon will be forfeited
For more info concerning refunds & rules that apply to all deals, check out our Makhsoom Promise
In case you were unable to use your coupon(s), please email us before the expiry date at [email protected]
Description
It's no accident that soccer is the most popular sport in the world—it requires little equipment, is fast paced, has clear rules, and it helps you stay fit. Have a "ball" with today's deal.
About Athletico Sports Club
Founded in 2006 by a group of parents, Athletico Sports Club is a Professional Sports Academy in Lebanon committed to providing the best specialized and advanced football and basketball training starting the age of 5. Furthermore, it is a federated club that actively participates in local and international youth championships.
Athletico Sports Club aims on ensuring the highest quality training to give talented players the chance to pursue their passion and an opportunity to establish a potential sports career.
Athletico Sports Club
Show Map
Questions?
Please ask on our
Facebook page
or
Contact Us
or simply call us on our:
Phone 01-874208
Mobile 79-100465
Whatsapp 76-503568
What are the payment methods available?
Credit or debit card (Visa, Mastercard or Amex)
Cash on Delivery (Order now and pay once you receive your item)
Bank Of Beirut Cash Deposit (All Bank of Beirut Branches)
Pay at Makhsoom office (Give us a visit and pay directly at our offices)
Pinpay (Pay directly from your mobile via pinpay)
Unlock Free Shipping and 10% additional discount by joining Mak Gold Membership